Had a great day with my BFFs~
Spent most of the time in purikura and a cosmetic shop(?) AND.....
Laughed like crazy when we're decorating our purikura..
Waited them buying fake eyelashes until I want to sleep...
But these are NOT the point..
WASTE our time 'cause we were stopped by a group of people who wants us to SUPPORT their crafts.... or should I say, FORCE us to buy.
We were walking to Times Square from Sg Wang..
When we reached the bridge... They stopped us..
Damn wasting our time!! And trick our money!! FUCK!!!
Yvonne met them before opposite WangsaMaju LRT and she did "support" them
Yenting also met them before but that time she lost her phone so no mood bother them
I didn't met them before! And FUCK!! THEY'RE FUCKING ANNOYING!!!
I'm so regret I didn't be more fierce to that gayish guy who "force" me!!
UGHHH!!! THAT FUCKING GAY!!!!
*angry mode ON*
Not trying to provoke or hurt gays here, but THAT GUY!! C'mon!! I don't even know him and he kept point-touch(?? I dunno how to describe) my hand and shoulder!!
FUCK!!! MY GAY FRIEND DON'T EVEN KEPT DOING THIS TO ME!!! WHAT GIVES HIM THE RIGHT FOR HIM TO DO THIS?!?!!? FUCK!!!
And he kept calling us 妹(3)妹(2) and kept saying "啊你们很可爱哦~"
WALAU DIU!!! CANNOT SAY DIU ALSO CANNOT LA WEI!!!
SOHAAA...HAHAHAHA....!!!!!!! UGHHHH!!!!!
After that I get annoyed and I told that guy STOP USING CUTE TO DESCRIBE ME!! I HATED IT!!! And what he said? "啊,不要酱讲啦妹妹,这样很hurt啊.." FUCK!!!!!
SO WHAT if you are older than us?!! It's just 4 years older than us (I asked his age 'cause he kept treating us as little girls FUCK)!! SO WHAT?!!
My sis is also 4 years older than me, so is my gay friend(hehe paiseh)!! DON'T MEMALUKAN PEOPLE WHO BORN IN 1987!!! PLEASE!! UGHHH!!
AND FUCK!!! YOU'RE NOT EVEN THAT TALL!!! Maybe just taller than me a few cm SO WHAT?!! YOU ACTED LIKE A KID MORE THAN ME YOU FUCKING GAYISH GUY!!!
UGHH!!! UGHHHHHHHHHHHH!!!!!!!!!!
Ok, at first he asked me to buy their craft which cost RM35(FUCK!!!)
In the end I asked him at least pay for how much for their craft, he said RM20.
When I paid, and put their fucking craft into my bag, they kept searching for it, so I took it out.
MANA TAU RM20 IS FOR A STUPID CARD!!! FUCK!!!
Ok some of you might be thinking why I wanna BUY their fucking craft..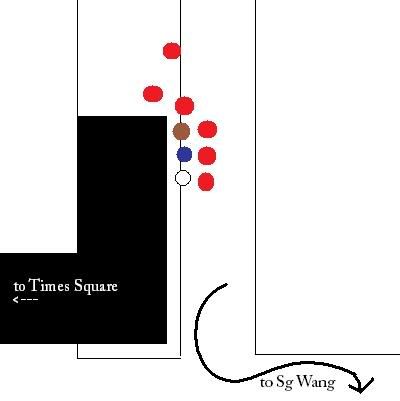 (red colour are those who stopped us...)
NO CHOICE YOU KNOW!!! OR ELSE WE CAN'T GO!!!
EVERYONE WHO PASSED BY KEPT STARING AT US!!
THEY'RE JUST LIKE THREATENING US!!!!
AND!! For heaven sake.... RM20 just for a STUPID CARD?!?!
Ok I know I know, they made it theirselves.. it looks nice...
BUT FUCK!!! YOU SEE!!!
Yes, it looks nice.
7 different colours, each kind of colour these type of paper A4 size cost about few cents
Let it be RM1 per A4 size, total RM7.. but they just used so little!! So less than
RM1
already la!
The transparent paper, not even thick like those we use to do our assignment.. also very cheap, sure less than RM2 la! Wait, lesser, 'cause it's not even A4 size!! Lesser than half of A4! Let it be
RM1
!
And that envelope.. Let it be
RM4
la..
Total less than RM8 la!! RM6 ONLY!!
If they sell for RM10 at least they've got RM4 profit la!! NOT ENOUGH AH?!!
Now it's RM20 which have RM14 profit!!! DIU!!!
This proves that?? THEY'RE ALL MONEY-MINDED AND THEY'RE TRYING TO TRICK OUR MONEY.
SUPPORT by FORCING??
If you really wanted others to support you, you shouldn't be forcing people and making people unhappy
Ya, we gave you money to buy those freakin craft which we don't want to especially when you're forcing us, you got the money
So what? SO you think the more amount of money shows that people are supporting you?
拜托,有必要那么现实吗?而且还是自欺欺人,觉得这样就代表人家在支持
发梦啦!!
如果要人家支持,何必要逼人?人家要不要支持是他们自己的选择啦!
做这些东西,卖这些东西,当然是要顾客开心的
可是他们一直逼我们买一直不给我们走!!法克!!
他们说自己不是捐钱的。不是捐钱又怎样?
如果是捐钱我宁愿捐,即使是骗的还是真的,至少自己是自愿捐,为了帮人而捐的
不过这个,我根本就不想买!帮他们?支持他们?
本来是想,不过拜托,那么贵!名知道我们都是学生啦!都讲对我们来说太贵了,他们还死命叫我们买!!
说什么,叫我不要把它丢掉
放心,我不会丢掉,我会撕掉剪掉罢了。
不尊敬吗?是谁先开始不尊敬?
我们三个自己也是搞艺术的,都知道handmade的东西怎样怎样
不过需不需要那么贵噢?!
我们以前搞演出都只是RM7一直张票,还两部戏叻!!
赚都没有超过一半啦!!
不知不觉就写了一大堆东西,就很明显我很不爽!!
UGHH!!! I should have scold that stupid fucking gay!!