Heh! Bought a.. erm.. phone skin sticker thing in Desa to stick on my phone as it's skin!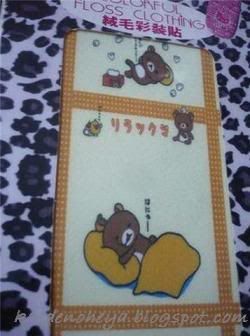 RILAKKUMA!!!!! XD
Erm.. actually I didn't noticed it wrote "线毛"(izit 线? I dunno really know how to read traditional chinese word D=).. I thought is those normal sticker..
ANYWAY!!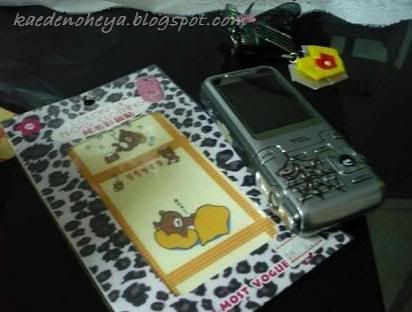 Prepare to be modified you phone!!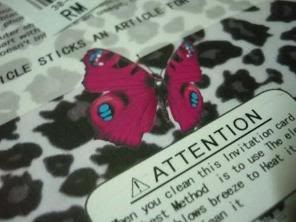 * This actually scares me when I wanna open it.. (i'm afraid of butterflies..)


Ready to sticker on the phone!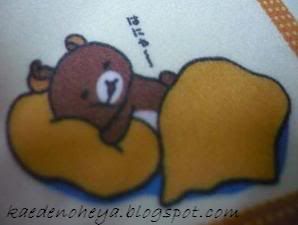 * So cute Rilakkuma sleep!! X3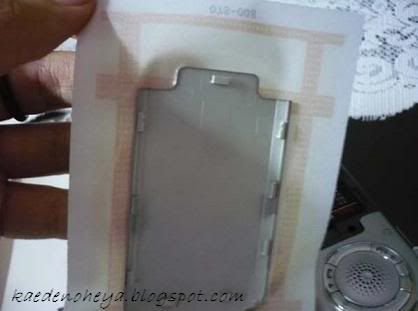 Kinda hard to stick since it's the first time i stick these stuffs..|||
Even covered the speaker!! LOL!
Finish the back of the phone!! (but got a bit cacat la..|||)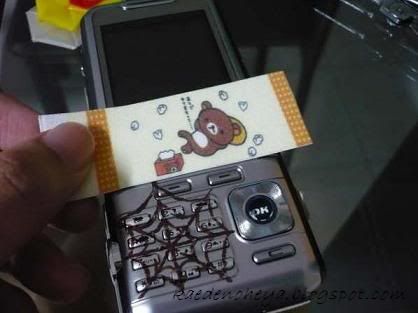 There's still 1 Rilakkuma left..! Hmm....
.
.
.
.
.
.
.
.
!!!!!

* Remove the phone label (Sry to the China brand TCL..)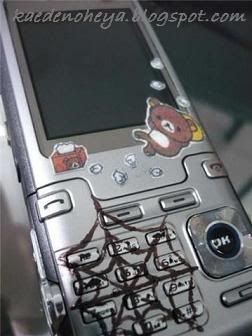 DONE!!!!
LOL So kekshui with the spider web!! XD
(**Note: spider web = spider = pink spider =
hide
!!)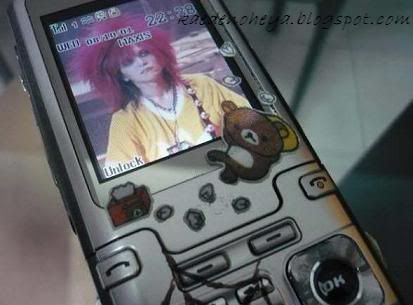 * When Rilakkuma meets hide...! Still sleeping!! No manners!! DX
Still have some left overs.. what to do? Throw?
Of course not la.. can save them then maybe next time can use...!!
------------------------------------
Spent about more than 1 hr to finish it! Long time no modify phone already..
I always decorate my phone when I was form 3(2 years ago) and form 4 (last year).. My drama frens even gave my phone a name call "1kg" phone..! Later become "1.5kg".. then.. "2kg"..! Because I hang a lot of phone straps! The size total up bigger than ur hand la wei!! Siao!!
Bought sushi from JJ~ Yay sushi!! XD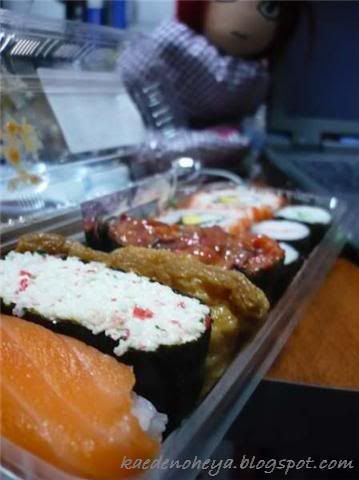 So crap.. getting fatter still want eat SUPPER...! Not just 1 day.. EVERYDAY!! DX
===================================================
MY GOD!!! When do I start studying for my SPM?!!! Online until siao liao!!
Sejarah.. Akaun...(ughh!! hate it!!) BM... Science... Still got what subject ah? English sure pass/A..! BC...B or C lor.. Seni..Maybe A or B? Moral...C or D..? Maths....
.
.
.
.
.
MATHS AHHHH!!!

I want my maths A ah!! Form4 de syllybus got some dunno/forgot how to do!! Form5 syllybus.. Earth de chapter forgot!! What longitude latitude.. so confusing!! X____X


9 subjects... Need to hafal de is Sejarah, AKAUN(formula), Science, MATHS.. BM de novel/sastera.. English de "The Pearl"... Moral.. SWT Almost all subject have to hafal laa!!
Thankfully I'm not Science class or Ekon class..! Now study art class also wan die liao!

Haih.. How come after this year dun have art class... why cancel art class.. Stupid school...

1 month++ left!! Then I have to go berperang!! Now what also haven prepare! SHIT!! Later how to go college?! Later mum dun let me go Taiwan watch X Japan concert then how?! And I still wan buy electric guitar!! And.. and.. er.. Oh ya! Later mum dun buy DSLR camera for me to learn photography!! NOOO!!!

*Faints*