Yay!! Went to watch HSM3 @ KLCC with my sis!!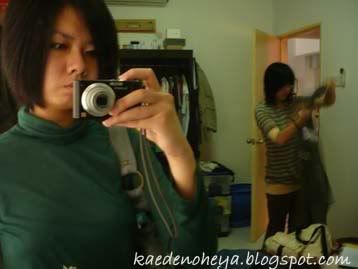 *Ready to go!

So swt 'cause wear makeup again..! I don't used to wear makeup..! Haha fa qiao!
Yvonne also watch on the same time with us, so she helped us to redeem our tickets~
We went to Kino~ Yvonne also there then she gave us our tickets~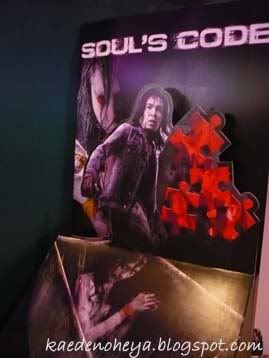 Hmm.. Dunno why this reminds me of
Reiki
! I mean his previous hairstyle..! Haha!
But now it reminds me of Snape from Harry Potter! LOL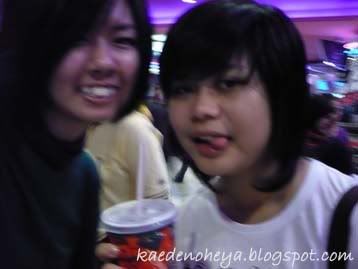 Me and Yvonne! This is the only photo I took with her.. too bad it's blurred..!
Hana Yori Dango
!! It's FINAL!!!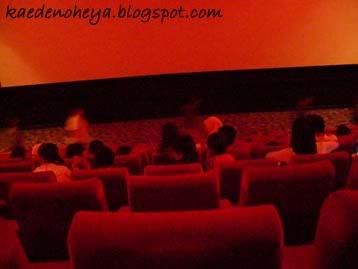 In the cinema!! Huhu I'm so bad! Taking photos in the cinema! That's against the cinema rules of course!!
Feeding the audience popcorn!! Haha!! (
Kei
's hand)
After the show, we went to Isetan etc~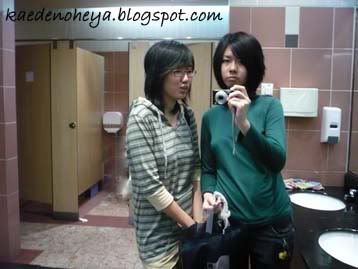 Take photos in the toilet! (The toilet with the door open actually there's a little girl was pee-ing =X But I edited it but still it looks sucks!)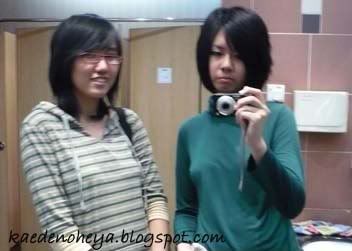 Later we ate spagetthi which I ordered wrongly.. But it taste the same..
Lol dunno why I love this..
* Edited! Boring =.=|||
-----------
Hmm... I really love the movie.. the songs/music, performance, dance etc.. especially it's kinda related to me - drama acting/stage play..
Troy and Gabriella look so cute together! Especially they're really together in real life..! X3
I really love how they arrange all the performance! They used stage play in many scenes.. Looks really fun..
And start from the part when Troy went to school at night "solo-ing" and kena tangkap by the drama teacher, the things that the drama teacher said made me cry..!!
Troy can't decide whether he wanted to go for basketball or stage play.. but in the end he choose both..
Can I be like that too? Choosing all the things I want..
Troy just have TWO things he love.. TWO things to choose.. but me?
I love many things!! Photography, fine art, stage play, music, hair dressing, make up etc etc ETC!!!
How could I choose all of them?!!
Ok, photography is surely in my hand..
Music-->electric guitar-->
guitarist
... and
hair stylist
..
These TWO.. I wanted to be since i'm primary school standard 6...
Can I achieve them?
Stage play..
Started to learn/join drama lesson in school since the end of Form 2.. started to love it later..
Thought before to join the drama world.. but.. it's really hard...
So forget about it..
Fine art..
Found out that I love fine art this year when I'm doing my Seni Projek.. playing with those paper clay.. felt really good..! Even used paper clay to make a Fernandes MG-145s hide's guitar..! Really hope to play with the REAL clay..!
And use water colour painting.. to express feelings.. it's also nice...!
Maybe I'll take this course in college.. But ahBoy say those clay or oil paint or those other materials with toxines are bad for health..!! I don't wanna die..!! And.. my nose are allergic to horrible strong smells...!!
Or maybe will study illustration..
Make up artist..
I really love cosmetics! I don't always use make up doesn't mean I hate makeup or cosmetics..!
I want a set of make up kit, brushes etc..!! All of them!!
I wanna make people pretty..!
and this I can be a freelancer to earn some extra money..!
How can I choose all of these...??
______________________________________________________
Oh ya!
『MIX LEMONed JELLY 2008★feat.hide Birthday Party!!』
artist/performer list is out!
SHAME
,
heidi.
,
the Underneath
,
DaizyStripper
,
DRYHI
,
as.milk
,
ジャックバドラ
(I have no idea who these last 3 groups are D=), and of course... hide himself!!
Sob... I wanna go... D=
And
this
!
hide Birthday campaign
hide Birthday campaign is ready!
The hide Birthday campaign will start soon
You can join the campaign when you buy the DVD"ALIVE!" and SHM-CDs on Dec.3.
(Target items)
DVD"ALIVE!" (UPBH-9421, 1228~30)
SHM-CD"HIDE YOUR FACE" (UPCH-1640)
SHM-CD"PSYENCE" (UPCH-1642)
SHM-CD"Ja,Zoo" (UPCH-1642)
(How to enter)
A course
For buyers who buy the DVD"ALIVE!" and all 3 SHM-CDs
One person will win a FERNANDES MG-145S hide-model by lot
Another 1000 people can get original sticker by lot
B course
For buyers who buy the DVD"ALIVE!" and one of the SHM-CDs
300 buyers will win to get original hide 3D toy glass
(Close of application)
Jan.31, 2009
Please check the details from application form enclosed in DVD"ALIVE!"
"One person will win a FERNANDES MG-145S hide-model by lot"
GOD!!! I WANT!!!!!
Of course I want that DVD and those albums too, but...
WIN a FERNANDES MG-145s GUITAR!! That yellow heart guitar!!!
I WANT!!!!
But... no $ no talk.... (omg that's a really lame sentence..!)
Anyway, I have no idea what's the difference of the old released albums and the new release ones..
Old "HIDE YOUR FACE"
and
new"HIDE YOUR FACE"
What's the difference?! How come the new one more expensive than the old one but not the same price?? I already bankrup they still want release so many things! I want collect all of them la!!
And those singles.. I prefer the old version
______________________________________________
Ok! That's the end of the show!!
P/S: Changed profile pic, but so fake!! 'cause edited! Added fake eye lashes!! HAHA!!!
-The End-
_______________________________