Yeah! Finally the trial exam is over on Tuesday!! But there's a few subjects surely I'll fail..
Anyway, on Tuesday, it's the 6th day of my grandma's death.. They said that we have to go back to Muar again 'cause base on the religious stuff, on the 6th day at night the spirit will come back to the house! Erm.. I don't really know how to say all these stuffs..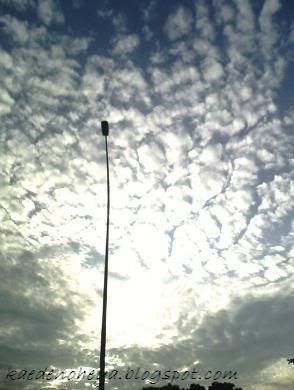 Dunno what's wrong in KL.. jam like crap ok..?! We took about 1 and a half hours to pass the Sg Besi tol! Gila..!
Normally we took about 2 hrs ++ to arrive Muar, but on that day we took about.. err.. about 4hrs++? Gila la.. double leh..
It's already quite late when we arrived..
The next morning about 4am, something happen..
It's raining heavily and guess what? The ceiling had a bunch of water down! Me and my dad slept on the floor exactly on the spot! My dad kena the rain a lot but I didn't kena, my pillow kena a bit.. D=

*My mum kept wiping all the water.. =(


* Water on the floor


* Buckets... D=

Because I'm already awake, so I went to toilet + brush teeth etc.. Then suddenly my 9th aunt asked me whether I saw my grandma's hand print! I was like "Where?!! O___O?!!" Then she brought me to the kitchen and showed me this:
Well this pic.. it's not clear of course.. I didn't bring the camera to Muar.. Have to take pic using 2.o mega pixel camera phone to take.. So regret that I didnt bring!! ARGGHHH!!!
The hand print is not quite clear, can't see the fingers in the right way, but can see the palm..! My 9th aunt's husband kept taking photos of it.. (= o=)"

My aunts said that according to the things they believe, on the 7th day of the death, their spirit will come back to their house. As for the rice, the spirit will come back try to cook the rice or something.. So most of the people will get ready for the rice, I mean make the surface flat so that we can see the difference the next day..!
And the next day.. there IS some difference!

I dunno whether it's true or not that my grandma did came back 'cause all of these stuffs are really hard to predict.. but I choose to believe it =D
Hmm later I can't sleep anymore and had my breakfast.. But later I still went to sleep =__="
My mum said that the heavy rain starts about 3am++ until 6pm++.. And because my dad washed his car last night (according to what they believe, we can't wash our head, car etc 'cause the death might drink those water?? o__o?), my mum told him not to wash but my dad didn't listen.. So the next day, my grandma "washed" him back..! (?) Dunno la.. this is what they believe! What a coincidence! Haha!
Later about 10am++ we pray pray pray.. then went to our grandma's grave again.. The weather is very nice that moment because of the heavy rain had clear the sky~ So nice~ The sky is a bit pinkish! X3 Reminds me of hide D= (Pink Cloud Assembly - one of hide's "song")
Hmm.. So... my grandma is really dead huh.. Not much to cry anymore now 'cause start to get used to it already.. =D
Oh ya!! Suddenly remember something! My 8th aunt told us that her daughter (our cousin la) dreamed of my grandpa the day before my grandma die!! That so nice!! I've been wondering who would dreamed about my grandma or grandpa! Argh!! I want to dream about them!! And my 3rd aunt dreamed about my grandpa too but it's the week before my grandma died, kept dreamed about my grandpa..! So nice.. D=
Hmm.. Every aunts and my uncle have some stuffs that was left by my grandma (accessories).. Me and my sis got some memorial stuffs too!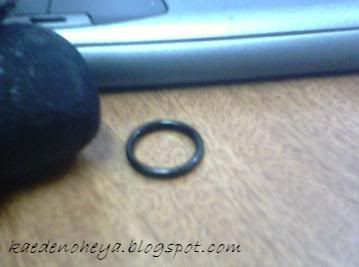 It's a ring that bought from my uncle to my grandma.. It's made out from coconut.. er.. dunno which part.. kernel or mesocarp? Dunno la..
Anyway my uncle was going to throw it, but my mum saw it and knew that we'll love it because it's black in colour, which matches our black onyx bracelet.. So now they belongs to us!
My mum said that my grandma knew how to make these kind of ring too, made out of coconuts.. Really admire those people from a long time ago.. especially those who lived in small villages or country side..